From Stage to Screen
The film adaptation of Schönberg and Boublil's musical was released December 2012. The film was a joint venture between British and United States production companies featuring both actors from the realms of both movies and theatre including:
Hugh Jackman as Jean Valjean
Anne Hathaway as Fantine
Russell Crowe as Javert
Amanda Seyfried as Cosette
Eddie Redmayne as Marius Pontmercy
Samantha Barks as Éponine
Aaron Tveit as Enjolras
Colm Wilkinson as Bishop Myriel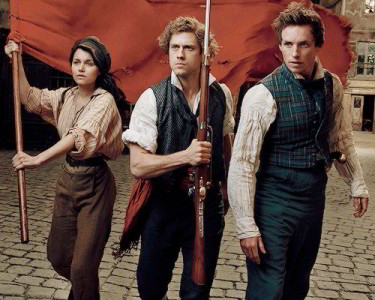 Left to right: Samantha Barks, Aaron Tveit, Eddie Redmayne in a photo by Vogue
A brand new original song, "Suddenly", was written specifically for the movie. The song expresses Jean Valjean's feelings about taking care of Cosette in the intimate setting of a coach as he rides away from the Thénardier's Inn with Cosette.