Les Mis on Stage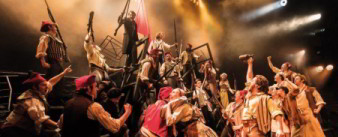 Les Misérables is currently on stage at the Queens Theatre at London's West End. A production of the show is also touring in the UK and Ireland with show dates from November 2018 to March 2019.
In North America, a US production is currently on tour in Canada and across the continental United States. The show is also currently on stage in Mexico at El Teatro Telcel in Mexico City.
A new production is slated to open at the Toho Stage in Japan in 2019.
You can find more information about current tours and performances at the Les Misérables and Toho Stage websites: